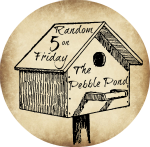 1. I am doing a 12 week workout challenge. It started almost 3 weeks ago. Guess how well I am doing? Ugh.....Sometimes I start working out and I become addicted. Making the family eat salads, smoothies and vegetables they have never heard of. Sometimes I would rather eat ho ho's and not talk about it. Well let's talk about it if I can complain that my jeans don't fit. Ha!
2. I bought my seeds today!!! So excited to get my garden started!
3. At this moment, you can not sit on my couch or love seat. Wanna know why? It is covered in clean clothes that need to be put away.
4. Tried my hand at homemade bread this week. It actually turned out really good! My plan is to start making all our bread. We go through A LOT of bread though. Crossing my fingers that I can keep up.
5. Woke up to this today. So beautiful.