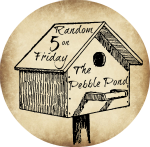 1. It is 6pm on February 24th in OHIO and it is 75 degrees! We took the day to get some things done and play outside. I would love for this weather be here for good. I was itching to start seeds but that would be silly since it is still February! So instead, I am just enjoying the warmth on my skin.
2. We are thinking about investing in bees and I am seriously pumped about that! The homestead has been looking pretty non homesteadish lately and I don't like that. Bees will definitely get me over that quick!
3. My oldest daughter turns 19 in less than a month. 19! Is that possible? That would make me older than I care to admit. You know whats crazy? I still feel 21. Ha!
4. I just looked at my "about me" section and I think it needs an update. It is like 5 years old. I'll add that to my to-do list. I really want to get this blog up to date and looking good!
5. Carter has been very busy with some fun projects. I am hoping to blog about them soon! It involves things exploding which definitely makes my Momma heart a big nervous. I try to let him experiment and we watch a lot of You Tube videos together and with his Dad. Sometimes I watch and sometimes I don't but I always listen when he talks to me about his ideas.