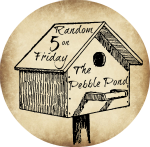 1. I'm sorry that I am late. It has been a crazy busy weekend. Friday came and went without me having any time to sit down at the computer. Right now I am cooking and cleaning and typing. All kind of at the same time. I didn't want to just skip Random 5 so here I am.
Did you have a good holiday weekend? We went to my dads yesterday. Played football, watched fireworks. It was fun! Tonight we had a little family party. Carter and Morgan decorated the front porch and set it all up with games. It was a good weekend. :)
2. I got a tattoo! I love it. I told myself I would never ever get a wrist tattoo but I did it and I am so glad I did. It says "outlove". Now I know that is not a common word. Which is actually what I was going for. Here is what it means to me...Outlove. It means to exceed in loving. To go beyond. To repay evil with good. I want to live my life in such a way that I show Gods love to my family, friends and strangers. That not only do I show them love but shower them in love. To be a gentle woman. To make people around feel special. To love. To exceed loving.
3. I love macaroni salad.
4. I have been slacking on my workouts! I am going to bed early tonight so that I can get it done before our day takes off running. I just feel so much better when I am consistent.
5. Do you remember my Beauty Captured challenge? Well...I have decided to start it again. I am not going to do every day. I am going to do it once a week. Would you like to join me?