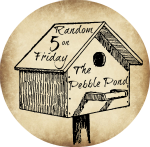 1. It is 65 degrees at 11pm on June 25th in Ohio. Weird, I tell ya. Just weird.
2. I have decided to start having Sunday dinners at my house. Which means I need to keep my house clean. It is not clean. Summer is a hard time for that! There is so much to do. My to do list keeps getting longer instead of shorter. Oh well....I need this.
3. Our little rabbitry is growing nicely. I got a buck Wednesday for breeding. Well..I didn't realize he was too young! He is a big rabbit so I just figured. Oops! I am still learning.
On a side note...I sold a rabbit today! These babies are our first batch and are a bit on the small side for eating. So I am trying to sell some and add some money into the "I will always need more rabbits fund".
4. My hair is FINALLY starting to grow back out. It has probably grown a few inches already since I got it cut. Luckily, my hair grows fast.
5. We are taking the kids to a rodeo on Saturday! FUN! None of us have ever been so we are pretty excited. :)
I can't wait to hear from you!