Hello! Thanks for stopping by.
Have you been here before? Is this your first time linking up for Random 5 or have you been here awhile? Let's get to know each other!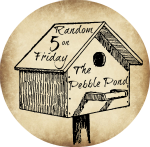 1. I love me some BBQ chicken. I could eat it every single day. Guess what's for dinner?
2. Fridays are usually errand days for us. Every other week we pick up Brian's paycheck, go out to lunch and grocery shop. On the other week, we usually hit the library and any other thing we need to do in town. How about you? What does your Friday look like?
3. The kids got their first job. Picking strawberries! They loved it for about 30 minutes. They worked for 5 hours in the heat so I am pretty proud of them. They got paid per quart. They lost track of how many they picked. Payday is being anxiously waited for!
4. I need to make out a summer bucket list. I have all kinds of things I would like for us to do this summer swarming around in my head!
5. We have had so much rain this week. Truthfully, I am not complaining. I have not had to water my garden!

Join us!? I would love to hear your randomness! :)