Good Morning! Do you have any big plans this weekend? I am hoping to get my garden in. So far I have a few pitiful pepper plants in, some lettuce and broccoli. I started a handful of things from seed but I stink at growing things from seed. I'm not sure why but they all die. Every time. I think it may have something to do with my lack of watering but who knows...lol!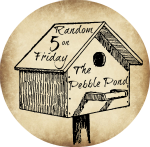 I can't wait to hear about your week, friends!
1. The farm is growing! I love every second of it. We have 2 litters of rabbits and 2 more on the way. I have 8 new ducklings! They are so sweet!
2. I scored over $100 worth of fencing for $15 bucks yesterday. Yeah, that kind of made my day.
3. Have you ever heard of Tsu? Do you have an account? I created an account and I must say I am having fun with it! If you want to sign up, let me know!
4. After 17 years of being a housewife wouldn't you think I could keep up with the dishes? Goodness.
5. My rooster has started crowing! I love it! Even at 5am. :)