Hello Friends! I am a bit late this week. Our internet has been crazy and well....our life has been too.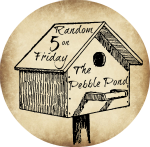 1. Life feels really good. Right at this moment. Things are not necessarily working out like I would like but I have this perfect little family. Whether we ever buy a house or not, it will all work out.
2. I am in the mood to get my hands dirty. I think we are going to get some our seeds. Like today.
3. I'm also going to make homemade toothpaste today. Kind of excited to try that! I may even venture to deodorant.
4. I got my hair cut. I hate it. A friend of mine cut it and she did great. I just like having long hair better. So I am happy my hair grows FAST!
5. The rats. Do you remember them? They must go. I tried to make it work. Taylor loves her but they poop everywhere! The fling poop out of their cage. It is nasty. Nasty, nasty, nasty. Daddy promised her a kitten if they rats can find a new home. Now I guess I need to look for a kitten.