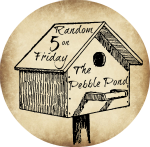 1. This weather. Finally. I seriously am as giddy as a school girl. I can see hints of green popping up as the snow is melting. Me likes it.
2. We went to the zoo last weekend. It was a lot of fun. It felt so good to get out! I'll post pictures soon.
(Tay's face. Totally cracks me up. The girl smiles CONSTANTLY. Well except for pictures!)
3. I did some Spring cleaning. Most of my house is looking nice and clean. I forgot how homey it feels when its all "put together". Me likes this too!
4. Taylor turns 17 in 5 days. FIVE DAYS! Am I really old enough to have a 17 year old? Don't answer that.
5. I really need to get my butt in gear with this blogging stuff. I want to blog more. Blog about life. What is going on here. Recording memories. I usually forget. How silly is that? How does one forget to blog? I post pictures to Facebook and then it is out of my mind. Maybe I need to blog first and then post to Facebook. Who knows.
I hope you have a FABULOUS weekend!!
Today is errand day and then this evening we are watching my niece and nephew! The sweet baby is now a month old. I love them to pieces. Tomorrow is not planned yet but we did change Family Night to Sunday. It just works better since Brian doesn't work. It is now Sunday Funday! Pizza night, games, family time. My favorite day of the week. :)