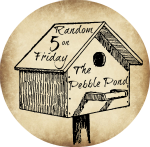 1. We get our taxes back on Monday. Umm...I can not wait. Hopefully I will also have a new camera in my hands!! It's weird how empty my hands feel without one. I knew how much I loved taking pictures but I kind of didn't realize how much I would miss it once I didn't have one. I learned my lesson. BUCKLE bag!!
2. We are STILL searching for a house! I am beginning to feel like we will NEVER find one.
3. I'm still having trouble fighting this cold. It has been almost 2 weeks! I think the end might finally be in sight. I have been taking Natural Defense 3-4 times a day. That is when I started to see a difference. It has been years since I have had a cough like this. Yuck!
4. Alyssa has started driving. Ok well she only picked up her book to start practicing for her permit but it is just too close, people! I mean really. This is not supposed to be happening yet. Is it? I want a rewind button. I have been letting her practice. I am going to expect her to have A LOT of practice before I even come close to letting her behind the wheel around other crazy drivers.
5. Speaking of a rewind button. Taylor turns 17 next month. Excuse me while I cry. It is not helping my baby fever. Although I doubt anything ever will. We need #2 to happen really quickly so this baby thing can happen. Buy a house...then Brian will be up for another reversal surgery or adoption. Fingers are crossed.
Want to join us?
Here are the rules. They are simple.
~ Link up your Random 5 on Friday post.
~ Add a link back to me somewhere in your post.
~ Please make sure to put the direct link to your blog post not just your blog. I like to read and comment on all of you but I can not always do it right away and I do not have time to look for it. Thanks!