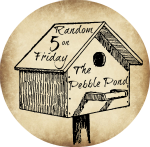 1. If my washer stops working one more time...I might just pick it up and throw it out the window. It stopped working for over a week. Brian fixed it and it broke again. My luck has been pretty yucky lately. Can you tell? It has been working for 2 days. So I am like the crazy laundry lady.
2. The sun is shining! Hallelujah!
3. I bought Nerium. Have you ever heard of it? It is supposed to do wonders for wrinkles. We shall see. Maybe I will post a before and after. It might scare you though.
4. I got to watch my nephew over night! Oh. My. Goodness. It was amazing but I will admit I was a little nervous. Its been a long time since I had such a teeny tiny baby over night. You know I got pictures! He is so perfect.
5. Have you seen the show Parenthood? I know I am a bit behind because it has been popular for years but....thats what happens when you don't have cable or dish or any of this things that people use to watch TV. We have a laptop and a library. It works. Anyway, Parenthood.....it is such a good show! I am on Season two. My only problem is that I can sit and watch 5 episodes in a row easy. That makes for a late night. ;)
Join us! I'd love to hear from you. Have a great weekend!