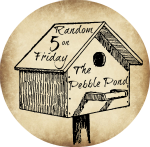 1. My sweet nephew was born on Tuesday! Hunter Allen Frederick. He is so perfect. I've seen him every day since he has been born and to tell you the truth...I could get used to that! :)
2. Guess what? I got a CAMERA!! YAY! I got a Canon t5i. I love it.
3. I got both #1 and #2 on the same day. It was a good day.
4. I love the flexibility of homeschooling. The kids and I were able to stay at the hospital while we waiting for Hunter's big entrance. We have been able to help the beautiful family as much as possible. The kids have had big lessons this week. Not book lessons and sometimes those are the most important.
5. It is cold. Like really cold. I have errands to run and I have heard it is supposed to be -30 with the wind chill. Fun. I think we will stay IN the rest of the weekend. Which I am fine with that. Well....unless that baby is involved. I may have to sneak in a visit now that they are home. :)
Want to join us?
Here are the rules. They are simple.
~ Link up your Random 5 on Friday post.
~ Add a link back to me somewhere in your post.
~ Please make sure to put the direct link to your blog post not just your blog. I like to read and comment on all of you but I can not always do it right away and I do not have time to look for it. Thanks!