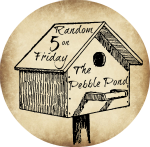 1. Brian had to take a vacation day this week because he couldn't make it to work in the snow.The surprise home day was pretty nice.
2. I started a journal, planner, all things go into it kind of thing....I am loving it! Do you journal?
3. I am supposed to run errands today but it is snowy and bitter cold. Do I really have to go out of the house!?
4. I want to start working out again. I gained back all the weight I lost and then some, I think. I seemed to get a little carried away once I start working out. It kind of takes over my life. I need to find a good balance.
5. Still no camera. Looks like I am going to have to wait until tax returns to get a new one. Ugh. It literally makes me sick to my stomach when I think about it. I pull my camera out DAILY. My iPhone has not exactly been a great replacement for pictures. Patience. I need patience. Last time I asked God for patience he gave me twins....think that will happen again. ;)
Want to join us?
Here are the rules. They are simple.
~ Link up your Random 5 on Friday post.
~ Add a link back to me somewhere in your post.
~ Please make sure to put the direct link to your blog post not just your blog. I like to read and comment on all of you but I can not always do it right away and I do not have time to look for it. Thanks!