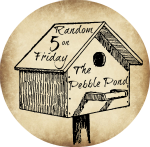 1. My nephew is going to be born in the next few weeks! I seriously can not wait! I just to smell him. Kiss him. Ahh....
2.We are gearing up for 10 inches of snow in the next 2 days. The kids are pretty excited. I have to admit I kind of love the snow too. For a time. Spring is right around the corner.
3. Carter has been making string traps over the last couple of days. He hasn't caught anything yet but it is helping with his cabin fever. He loves the snow. Sometimes I have a hard time getting him to come in the house but he does get a bit bored at times. He likes to tell me he needs a brother. Haha.
4. We are thinking about getting a German Shepherd. Well we know we are getting one eventually but Brian wants to wait until we buy a house and I want it now. I know it is only a few months. Can you tell the difference in our personalities?! It's ok. We compliment each other. ;)
5. I have been sick for the last 4 days. I have being sick. Like really really...really hate it. I feel like I am on the mend so lets hope that I wake up tomorrow full of energy and feeling great! My family needs that. My house needs that. Heck, I need that!