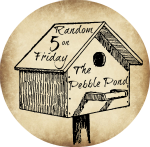 1. 2015. Unbelievable. We celebrated at home. We played some games, watched some movies. Counted down and then went to bed.
2. Back to the grind on Monday. If you don't see us for awhile its because our noses are glued to books. Catch up time! December was a GREAT month but its going to take awhile to get us back where we need to be. Not stressing though just jumping in and staying steady.
3.This year is the year of simplicity for me. No more Jamberry. No more workout challenges. I'm going to smile more. Make memories. Enjoy the moment.
4. I am ready for Spring. We haven't even had much snow or even really cold Ohio weather but I am tired of blah days. I need some sunshine.
5. Yesterday I pulled the family out for a hike. A few people wanted to stay home and cuddled under blankets but I knew we needed the fresh air. Everyone liked it once we were there! :)
An extra fact for good measure....my camera is broken. Broken. Its going to cost me $200 to fix it and 8 weeks to get it back. I tried using the kids point and shoot cameras but they none of them hold a charge for more than 5 minutes. So for the next few months I only have my phone for pictures.
One more to end on a good note....Brian got me a new Project Life album for Christmas! We also got one for Alyssa. I am so excited to it with her this year. :)