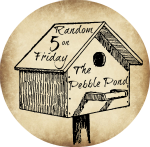 1. It is 47 degrees right now. In Ohio. In January. At 7pm.
2. Alyssa made over $100 selling homemade scarves in the last few weeks. She is loving that!
3. I dyed my hair 3 times in the last 2 days. I know. I know. *hanging my head in shame*
Trying to save money costs me in the end. It finally looks presentable.
4. I started writing a creative writing prompt on the chalkboard every morning for the kids. It has been a lot of fun reading their stories!
5. I jumped back in to my workouts. I should have backed up just a bit instead of jumping back into where I left off. Sore much....
Want to join us?
Here are the rules. They are simple.
~ Link up your Random 5 on Friday post.
~ Add a link back to me somewhere in your post.
~ Please make sure to put the direct link to your blog post not just your blog. I like to read and comment on all of you but I can not always do it right away and I do not have time to look for it. Thanks!