Hello! Hello! Hello! Is anyone still out there!? I know I have been kind of missing lately. I have posted a few December Dailies but Random 5 kind of fell off the earth for awhile. I am back! I promise! How have you been since we last talked? I look forward to reading your Random 5 this week. :)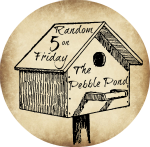 1. Can you believe that Christmas is in less than a week! Craziness, I tell ya! Just crazy. Are you ready? I am not. I still have a lot of shopping to do. A lot. I haven't wrapped a thing either!
2. We are taking the kids to see the third Hobbit tomorrow. They are a little excited. Just a little. They have only been talking about it since we watched the second Hobbit.
3. My little sister is still home from Germany!! I love me some baby time right now. Tonight us girls (both little sisters and step mom) are going out for my birthday! I can't wait.
4. Birthday. Ugh. I just turned 35! THIRTY FIVE! I still can't believe it. I don't feel 35. Not even a tiny bit. Well what does 35 feel like? If I had to pick a number I would say I still feel in my mid 20's. I have always said age is just a number but this "number" was kind of emotional for me. Only because they "say" that pregnancy after 35 can cause problems, yada, yada, yada. Since I hit that number and babies are still not happening then I was emotional for a bit but I know God is in control so I'm ok. :)
5. Here is my schedule for the next week. Are you ready?
Today ~ Pick up Brian's paycheck. Grocery. Get new furniture delivered (YAY! Can't wait! Brian and I have never bought our own furniture. It was always hand me downs!) Go out for my Birthday.
Tomorrow ~ Christmas shop. Take kids to see the Hobbit. Family pizza night. Decorate ugly sweaters.
Sunday ~ Church at my Grandmas (1/12 away) and then Christmas at her house.
Monday ~ Clean my house. Get everything ready for Ugly Sweater Party at my house. Cook. Ugly Sweater Party at 5:30! Fun!!
Tuesday ~ Finish up any Christmas shopping.
Wednesday ~ Christmas Eve at my Mom's.
Thursday ~ CHRISTMAS! Our house in the morning. Over to my Dad's in the evening.
Friday ~ Christmas at my Aunt's house.
Saturday ~ My sister leaves to go back to Germany
Whew! Are you tired yet? It is going to be a crazy week but I am looking forward to all of it!!
I hope you all have a VERY MERRY CHRISTMAS!!
Want to join us?
Here are the rules. They are simple.
~ Link up your Random 5 on Friday post.
~ Add a link back to me somewhere in your post.
~ Please make sure to put the direct link to your blog post not just your blog. I like to read and comment on all of you but I can not always do it right away and I do not have time to look for it.
Thanks!