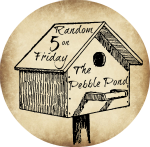 1. Our anniversary was a HUGE hit. He loved his present. I loved mine. It was wonderful! *swoon*
(What I wore, his present, selfie and my present!)
2. I can't believe I actually pulled of getting his present done. Our room was the storage, throw everything, I forgot what color the carpet was room! It was terrible. I redid the WHOLE thing. In 2 days. I painted a accent wall and cleaned it from top to bottom. Bought a new comforter and a few things to hang on the walls. It turned out perfect.
3. My bracelet. Ahhh...beautiful. I was so surprised. Unfortunately, I have to exchange it. The latch comes undone so easily. It feel off once when I was loading Taylor. Such a bummer. I'm hoping to find something pretty much the same with a better latch.
4. It was snowing this morning! Snowing! I am not sure that I'm ready for that. Do I get a choice?
5. We had a dog show up at our house yesterday. I called the pound but they had not heard anything. I think I gave my kids the impression that we might keep him. Which they were pretty confident that if they had not heard anything yet they probably wouldn't. Today the owner called. The kids are devastated. I feel terrible. :(
Want to join us?
Here are the rules. They are simple.
~ Link up your Random 5 on Friday post.
~ Add a link back to me somewhere in your post.
~ Please make sure to put the direct link to your blog post not just your blog. I like to read and comment on all of you but I can not always do it right away and I do not have time to look for it. Thanks!