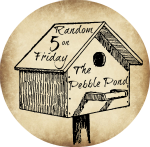 Hello! Hello! Hello! Welcome to another round of Random 5 on Friday!
1. So I started selling Jamberry Nail Wraps. I love them. I had my first Facebook party the past 2 weeks. I have my first in-home party TODAY and TOMORROW I am doing a craft show! I am so excited. Nervous but excited!
2. Carter shot a deer last night. We trailed it but lost track of him. Brian had to go to work today so my dad is coming out to help us. Its probably weird to a lot of people but I love hunting and everything about it! I am excited to go this morning. I am trying to NOT to think about the fact that I have #1 going on and a LOT to get ready. Its a good thing I work well under pressure!
3. Alyssa turns 15 in four days! 15! There is this part of me that is so sad that my girl is growing up but there is another part of me that absolutely loves this time too. She is so much fun to be with and talk to. I try to enjoy every minute.
4. I am so excited to be on the SchoolHouse Review Crew again next year! I am planning on making some changes with my blog. I really want to start recording our life. This past year has been crazy and my blog has really been taking a hit from that. I am trying to remind myself why I started blogging in the first place. I have to take some time and really think about my goals for this here blog and get back on track.
5. My little sister is getting married in 23 days! Oh goodness. If you remember, I am going to be a bridesmaid. I am so excited! I had to go a few days ago to exchange my dress for a
smaller,

YES a SMALLER size. Can I get a fist bump!? I have worked so hard to feel comfortable in that dress. I never thought I would have to go down a size. It is very form fitting so I wouldn't say I feel 100% comfortable in it but I feel much better. Now I just need to make sure I lay off the Dr. Pepper and donuts over the next 23 days. If not I may not be able to button the new dress. That would be bad.
If you think about me over the next 2 days, I would LOVE prayer. I am kind of scared of bombing it at my in-home party and craft show! Thanks so much. I look forward to reading about your week.