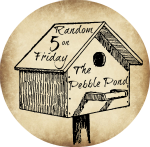 1. We have a very busy day ahead of us. 2 appointments. One this morning, one this afternoon.
2. I already got my workout in! Go me!
3. My nickname is Randi Lou. Did you already know that?
4. I need to paint my toenails. Right now, only my big toe is holding on to some purple.
5. I really appreciate each and every one of you that read my posts every week. :)
Want to join us?
Here are the rules. They are simple.
~ Link up your Random 5 on Friday post.
~ Add a link back to me somewhere in your post.
~
Please make sure to put the direct link to your blog post not just your blog
. I like to read and comment on all of you but I can not always do it right away and I do not have time to look for it. Thanks!