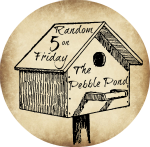 1.Tomorrow is my 17th wedding anniversary! So crazy! I was only 17 when I got married. I will a baby but I love my husband more today than I did that day!
2. I am so excited about the present I got for Brian. I can't tell just yet though! He might read this. I will give ONE hint though...its not so much of a present that he can open but more of a project!
3. We are staying home. I am going to make a nice dinner, put the kids to bed early and spend some much needed mommy and daddy time!
4. Tomorrow I am signing up to be a Jamberry consultant! I am so excited. The biggest reason? The girls and I are going to do it all together. They are my business partners. How fun is that!?
5. I am really hoping to make next week a never-leave-the-house-and-actually-do-school-every-single-day kind of week. Think I can make that happen!?
Want to join us?
Here are the rules. They are simple.
~ Link up your Random 5 on Friday post.
~ Add a link back to me somewhere in your post.
~ Please make sure to put the direct link to your blog post not just your blog. I like to read and comment on all of you but I can not always do it right away and I do not have time to look for it. Thanks!