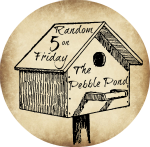 I am so sorry for missing last week. Life seems to only be getting busier by the minute.
1. I hosted a bridal shower last weekend for my little sister. The theme was "The Hunt is Over". Kind of a country/rustic/camo theme. It was a blast! I'll post pictures soon.
2. I ditched Alyssa's history already. Didn't the school year just start. Goodness.
3. Today we are headed to a State Park and will start our nature notebooks for the year. Exciting stuff.
4. My kitchen is a mess at the moment. Literally, if you saw it you would question my sanity.
5. Fall is unbelievably beautiful in Ohio. Every time a new season rolls around, I swear it is my favorite. So lets just say I love fall instead of insisting it is my favorite. Okay? Okay.
Have a FABULOUS weekend. :)
Want to join us?
Here are the rules. They are simple.
~ Link up your Random 5 on Friday post.
~ Add a link back to me somewhere in your post.
~ Please make sure to put the direct link to your blog post not just your blog. I like to read and comment on all of you but I can not always do it right away and I do not have time to look for it. Thanks!