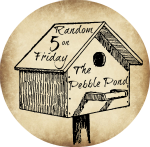 Sorry that I am running so late today. I have been so busy canning! I love canning season but it is exhausting and very time consuming. So worth it though.
1. Speaking of canning...So far I have done pickles, salsa, pizza sauce and peaches.
2. I entered a 12 week transformation challenge. I am so excited about it! To enter the contest you had to follow in person or online a No Excuse Moms group. There was not any local ones so I was able to start my very own "official" No Excuse Mom group. If you are interested in joining, come on over! https://www.facebook.com/groups/313579488821843/
3. The other day, Alyssa told me I was the coolest mom ever. I wonder how long that will last?
4. I keep pushing our school start day back a week. Eventually, I guess we should just jump in...right?!
5. I am hungry and this eating healthy is for the birds! Haha!
Want to join us?
Here are the rules. They are simple.
~ Link up your Random 5 on Friday post.
~ Add a link back to me somewhere in your post.
~
Please make sure to put the direct link to your blog post not just your blog
. I like to read and comment on all of you but I can not always do it right away and I do not have time to look for it. Thanks!