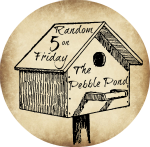 1. It is boot season! I love, LOVE, love it! How about you?
2. We actually started school. It is a slow process getting everything to run smoothly but its nice to be back at it.
3. I got a new van! I am so in love with it. It may be a minivan but it is so much better than what we were driving. It is a Honda Odyssey and it has a moon roof! Yippee!
4. Taylor has been riding in our new van WITHOUT her car seat! She is doing so well. It makes her feel like a big girl! The smile on her face when we drive around is pretty much awesome. :)
5. Morgan is starting horse back riding lessons tomorrow. She may be a little excited.
Want to join us?
Here are the rules. They are simple.
~ Link up your Random 5 on Friday post.
~ Add a link back to me somewhere in your post.
~
Please make sure to put the direct link to your blog post not just your blog
. I like to read and comment on all of you but I can not always do it right away and I do not have time to look for it. Thanks!