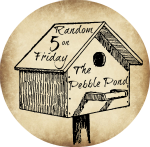 1. I have had a terribly horrible week. I am starting to feel better now but it has been slow and discouraging. I am carrying more on my shoulders than any person should ever have to. I know what I need to do. I need to give it to God. It is much easier said than done. If you could pray for me I would appreciate it so much.
2. I've lost a total of 10.6 pounds. That makes me happy because I have been working my tail off! I normally wouldn't post a picture like this but I am so excited about the changes I have been making with my body. It is the one thing in my life I have control over.
3. I have my last batch of salsa to make today. Then I am on to apple season! I love canning applesauce, apple butter and apples for apple bread. Yummy!
4. We start school on Monday. I am SERIOUS this time. ;)
5. I am NOT a breakfast person. I have eaten oatmeal every morning for breakfast for 2 weeks. That is a huge accomplishment! Especially since I am not particularly fond of oatmeal to start with.
Want to join us?
Here are the rules. They are simple.
~ Link up your Random 5 on Friday post.
~ Add a link back to me somewhere in your post.
~
Please make sure to put the direct link to your blog post not just your blog
. I like to read and comment on all of you but I can not always do it right away and I do not have time to look for it. Thanks!