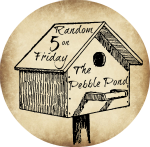 1. When I was pregnant with Carter and Morgan I used green apple dish soap. To this day, I still can not use it! The smell gets me every time. I actually love a green apple smell but NOT in the form of dish soap. Gag!
2. I love Fall. I didn't think I was ready and part of me is not but I also love it at the same time. It feels so good outside. I sleep like a baby. I am so comfortable in a sweatshirt and jeans.
3. Are you a football fan? I never used to be. I still see it as a waste of time but I get hooked every season.
4. We finally start school on Monday. (I think!)
5. Alyssa started a blog. She named it
A Little Spot to Write
. How cute is that? She would love a few followers. Hint, Hint. :)
Want to join us?
Here are the rules. They are simple.
~ Link up your Random 5 on Friday post.
~ Add a link back to me somewhere in your post.
~
Please make sure to put the direct link to your blog post not just your blog
. I like to read and comment on all of you but I can not always do it right away and I do not have time to look for it. Thanks!