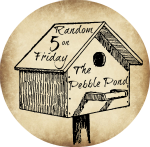 Hi all! I just wanted to thank you all so much for following my blog. I also want to send a special thanks to all the ladies that link up with me every Friday.
I can't always comment on your blogs but I do try to read them.
1. So this week was pretty scary. Most of you probably already know this from TOS and Facebook but I was in the hospital for 2 days. I was having heart palpitations, tightness in my chest and a slew of other fun things. The doctors have ruled out anything serious. Thank God!! I have to wear a heart monitor for THIRTY days. Yes, you heard that right. After that I follow up with a cardiologist. Getting older kind of stinks!
2. My whole family was incredibly amazing while I was in the hospital. That is TWO stays in the hospital this year. Blah. Anyway, my husband really stepped up to the plate. He even brought me a shirt with his cologne on it because he knows I can't sleep very well with out him. Ummmm....yeah, he is a keeper.
3. My house is a mess. The end.
4. I have a slew of cucumbers and ones that are ready to be pickles! Yay!
5. I'm thinking about having a yard sale. I haven't had one for years. We moved the kids bedrooms around. Carter and Morgan were still sharing a room. We were waiting until we moved to put all the girls together but that is taking longer than excepted because we cant find anything! After moving the kids around I came across so much stuff to get rid of.
Want to join us?
Here are the rules. They are simple.
~ Link up your Random 5 on Friday post.
~ Add a link back to me somewhere in your post.
~
Please make sure to put the direct link to your blog post not just your blog
. I like to read and comment on all of you but I can not always do it right away and I do not have time to look for it. Thanks!