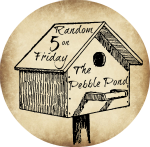 1. Big news...Big. Huge! We signed up for foster care orientation. It may not go any further than that but it just might! I am so giddy with excitement. I have a lot of questions and I'm scared of a few things. At the same time I just want to hurry up the process. We shall see. And pray. Yes, pray. And pray some more. :)
2. I am thinking about going hunting with Brian this year. I am pretty excited about it. I love to be with him. I used to hunt with my dad when I was a kid. I have never gone with Brian before. The whole family signed up for a hunters safety course. It is 3 nights in a row for 3 1/2 hours. Yes, 3 1/2 hours. That should be interesting.
3. School is starting very soon. I have to much to do before then. Lord, help me. I haven't even ordered all the curriculum!
4. Morgan is starting horse back riding lessons! Excited does not even do justice to how she is feeling.
5. Today is grocery day. I made out a meal plan. It is color coded and everything. I must stick to it. Must, must, must!
Want to join us?
Here are the rules. They are simple.
~ Link up your Random 5 on Friday post.
~ Add a link back to me somewhere in your post.
~
Please make sure to put the direct link to your blog post not just your blog
. I like to read and comment on all of you but I can not always do it right away and I do not have time to look for it. Thanks!