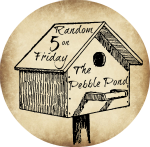 1. My tomatoes are very slowly turning red! Yippee!
2. I put up my very first roadside stand! It was so exciting. Someday, I really want to have a "real" roadside stand. I will sell things from my garden, canned goods and maybe even candles. Doesn't that sound fun!? I only sold 2 cucumbers but hey, you have to start somewhere. Right?!
3. I have cucumbers coming out of my ears. I canned a boatload of pickles this week.
4. I have been drinking a gallon of water a day. A GALLON. Do you have any idea how often that makes a person have to stop everything they are doing and run to the bathroom!?
5. Every Monday Brian and I go on a date. The last 2 weeks we have done fishing. Yes, fishing. I love fishing! I have always held the "biggest fish" record in this house. 16 years I have carried that title. Not anymore. He finally out-fished me.
Want to join us?
Here are the rules. They are simple.
~ Link up your Random 5 on Friday post.
~ Add a link back to me somewhere in your post.
~
Please make sure to put the direct link to your blog post not just your blog
. I like to read and comment on all of you but I can not always do it right away and I do not have time to look for it. Thanks!