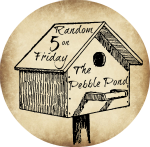 1. Do you feel like you eat the same meals over and over and over again? Goodness, I do. I'd love to change things up a bit. Any ideas?
2. I have tremendously cut down my soda intake. Can I get a "Hallelujah"?!
3. It was the week of bee stings here. Alyssa got stunk on her foot, Morgan got stung on her eye and I got stung on my foot and my hand!
4. I really need to get my butt in gear. I have school books to get together, school to plan, a garden to tend, a family to love and I'm ready for a nap. ;)
5. This was an
amazing blog post
by Ann Voskamp. Did you read it? If not, you should.
Want to join us?
Here are the rules. They are simple.
~ Link up your Random 5 on Friday post.
~ Add a link back to me somewhere in your post.
~
Please make sure to put the direct link to your blog post not just your blog
. I like to read and comment on all of you but I can not always do it right away and I do not have time to look for it. Thanks!