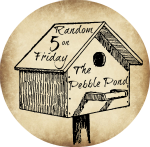 1. I went this week to get my bridesmaids dress. Shoot me now. Just kidding. It's not THAT bad. Did I mention that the other bridesmaids are 21? I did. I know. On to better news, my workouts are going awesome! I have lost 3 pound this week! I finally am off that plateau I was on. Thank goodness because I was starting to get discouraged.
2. I know I will be asked...Here is what I have been doing.
~ I have been eating healthy. Not always. I did have a Klondike bar the other night.
~ Taking Creatine. To help me build muscle faster. I want this flab on my arms GONE by December 6th.
~ Protein shakes. Once a day usually.
~ Weight training. I have a Total Gym and 10 pound weights. Gotta use what you have!
~ Running. Only a mile or two a day.
3. Our mower broke. Half way through the mowing. Blah.
4. I dyed my hair dark brown like I do every few months. My natural brown is a really ugly, dull brown. Anway, it was WAY TOO dark. So I put medium brown on it. Nothing. I have dyed my hair since I was in my teens and I have never had this problem. So I used some Sun In to try and lighten it up just a bit. I sprayed it on a brush and just ran the brush through my hair. Trying to make it look natural. Nothing crazy. Ha. Right now, my hair is approximately 4 different shades of brown.
It's ok...you can laugh.
5. I have a fun photography project coming up soon. It's a secret so I can't tell you yet but trust me when I say....I'm excited!!! :)
Want to join us?
Here are the rules. They are simple.
~ Link up your Random 5 on Friday post.
~ Add a link back to me somewhere in your post.
~
Please make sure to put the direct link to your blog post not just your blog
. I like to read and comment on all of you but I can not always do it right away and I do not have time to look for it. Thanks!