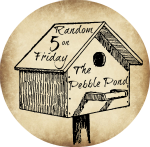 1. I am really slacking on this blogging thing. It isn't because I don't have anything to write about. I just am just in a rut. Kind of feel like no one reads it anyway or cares. I know..pitiful, huh!?
Note to self ~ Must do better!
2. My garden is doing amazing this year! I didn't kill anything! How's that for awesome!?
3. We still can not find a house. I am so upset about it. We need to move. We need vehicles but we are trying to hold off until we buy a house first. Babies can't happen until we buy a house. I NEED a house! Is it too much to ask for a decent price, in the country, a little bit of land and neighbors not on top of us. I mean really????
4. I freaked out a little about Alyssa starting high school. I was having a complete melt down. I am better now. I am still sad she is that old already but as far as the teaching goes I am ready! I think.
5. Did I ever post any pictures of my sweet nephew? I can't remember. He is 2 weeks already. I just want to kiss him and smell him! Germany is so far away. For now, I love me some Skype and Facebook!
Want to join us?
Here are the rules. They are simple.
~ Link up your Random 5 on Friday post.
~ Add a link back to me somewhere in your post.
~
Please make sure to put the direct link to your blog post not just your blog
. I like to read and comment on all of you but I can not always do it right away and I do not have time to look for it. Thanks!