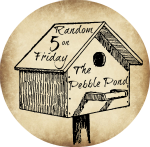 1. School planning. That has been my life for the last few days.
2. My garden is full of weeds. Would you like to come and help me pull them? I would love the company.
3. I am in awe of how cool the nights are right now. I actually have a sore throat from having our fan on. Weird. Usually it is so hot at night I can't sleep.
4. Brian got 3 days off last week and a day and half this week because a machine at work broke down. It has been nice having him home. Not so nice on the pocket book.
5. I used to love to be tickled. Brian used to hold me down and tickle me until I cried. I now hate it. Hate it, hate it, hate it! Isn't it funny how we change? Brian hasn't caught on to that fact yet.
Want to join us?
Here are the rules. They are simple.
~ Link up your Random 5 on Friday post.
~ Add a link back to me somewhere in your post.
~
Please make sure to put the direct link to your blog post not just your blog
. I like to read and comment on all of you but I can not always do it right away and I do not have time to look for it. Thanks!
~ Visit, Visit, Visit! Have fun encouraging each other. :)