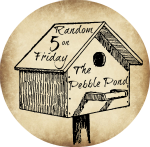 1. I'm so excited to fully get my garden in this weekend! I love playing in the dirt.
2. I lost my motivation to work out. Do you have any you can give me? I would appreciate it. :)
3. Strawberry kombucha is the bomb. Seriously.
4. Our library book sale is tomorrow. I kind of love book sales.
5. Our summer routine for school is actually going great! I am pretty impressed.
Want to join us?
Here are the rules. They are simple.
~ Link up your Random 5 on Friday post.
~ Add a link back to me somewhere in your post.
~
Please make sure to put the direct link to your blog post not just your blog
. I like to read and comment on all of you but I can not always do it right away and I do not have time to look for it. Thanks!
~ Visit, Visit, Visit! Have fun encouraging each other. :)