I'm sorry I am a day late. My little sister is in Germany having a baby as I type!! I am a very anxious and nervous aunt!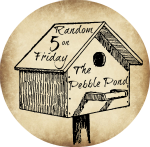 1. How can I not talk more about being an aunt!? My little sister is 13 years younger than me. I actually have twin sisters that are 13 years younger than me. Kassy, is getting married in December. Which reminds me I need to workout today. The bridesmaids dress might look a bit more flattering if I tone up a bit. Anyway, my other sister, Krissie, is in labor RIGHT NOW! In Germany. 12 hours by plane away. Help me now.
2. I got an iPhone! I'm kind of excited about it. We use our cell phones as our only phone. I have to have it because we go to a lot of appointments out of town. Just me and the kids. Anyway, I have always been an Android girl. I am liking the iPhone. Its an older one...4s and it was used but I love it all the same because it takes wonderful pictures.
3. Did I mention my sister is in labor right now. And I'm not there. I'm half way around the world. Sitting not so patiently. all. day. long. Yeah. Ok. New topic. I am making homemade pizza for dinner. We have pizza night every weekend. I love the tradition!
4. I have a huge pumpkin patch growing! Eek! I am excited about that.
5. I never knew trying to find a house would be so difficult. I want land. A decent amount but we are trying to use a USDA loan with no money down. Unfortunately, I want land more than a spectacular house. That I can do myself but with a USDA loan the house has to met a bunch of standards. Most of the houses that meet these standards do not have any land at all. Such a bummer. If anyone has any info that might help me out in this area, I would love to hear ALL ABOUT IT! For now, we look and look some more.
Want to join us?
Here are the rules. They are simple.
~ Link up your Random 5 on Friday post.
~ Add a link back to me somewhere in your post.
~
Please make sure to put the direct link to your blog post not just your blog
. I like to read and comment on all of you but I can not always do it right away and I do not have time to look for it. Thanks!
~ Visit, Visit, Visit! Have fun encouraging each other. :)