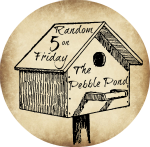 1. Brian has been busy, busy, busy tilling all my gardens for me. Yes, gardens.
2. I am really excited to plant a sunflower circle for the kids! I saw it on Pinterest. I can imagine all of us sitting in the circle reading but the reality is we will probably be swatting bees the whole time. We shall see. No matter what it will LOOK neat!
3. I am completely caught up on my laundry. This is a HUGE thing around here.
4. My little sister is due in ONE week! EEK. I am so excited. Jaxon Vincent will be joining us very soon. I wish I could hop on a plane and fly to Germany. I may be tempted to bring him home with me if I do that. :)
5. The kids and I are reading Elijah of Buxton by Christopher Paul Curtis. It is a wonderful book. It is about a little boy that lives in a settlement of escaped slaves. I have the accent down to a T and I find myself still talking like that when I am done reading. It is very common to hear me say "Git yer shoes on, its time ta go."
Want to join us?
Here are the rules. They are simple.
~ Link up your Random 5 on Friday post.
~ Add a link back to me somewhere in your post.
~
Please make sure to put the direct link to your blog post not just your blog
. I like to read and comment on all of you but I can not always do it right away and I do not have time to look for it. Thanks!
~ Visit, Visit, Visit! Have fun encouraging each other. :)