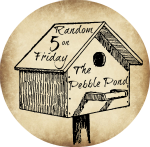 1. Tomorrow we are going to a carnival. How fun! The best part? It is free! The worst part? Taylor has no desire to go. AT.ALL. I'll give details soon.
2. The moon is beyond beautiful tonight. Yes, its night. Yes, I am really late posting this.
3. I have been a busy bee the last few days. So far I have planted cucumbers, tomatoes, onions, peppers, spinach, lettuce and carrots. This year I am determined not to kill a single thing.
4. We are van shopping. I have mixed emotions about it. I really want a new van but I really don't want a payment. Unfortunately, we don't have a choice. I can't believe ours is even running at this point.
5. My toenails are an ugly shade of blue/gray right now. I really should do something about that.
Want to join us?
Here are the rules. They are simple.
~ Link up your Random 5 on Friday post.
~ Add a link back to me somewhere in your post.
~
Please make sure to put the direct link to your blog post not just your blog
. I like to read and comment on all of you but I can not always do it right away and I do not have time to look for it. Thanks!
~ Visit, Visit, Visit! Have fun encouraging each other. :)