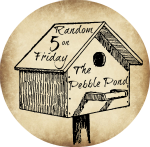 1. Its almost midnight and I can hear birds chirping!
2. I stopped all antibiotics and went with a natural remedy. Yep. I did. Don't worry I have been on the antibiotics for...oh...15 days or so. I didn't stop mid cycle. I couldn't take it anymore. The infection was coming back so I was prescribed a FOURTH (and last over the counter for staph!) antibiotic. I couldn't take it. So far, so good.
3. Do you have any plans for Mothers Day? I am trying to put in my requests. I will let you know how that works out next week. :)
4. Baby Shower! In 8 days! Can't wait.
We talked to my sister through Skype yesterday. (If you don't remember, she is Germany.) Her belly is the cutest thing I have ever seen. She is so tiny. Think like maybe 90 pounds, 4'9 (I think). Tiny. When she stood up so I could see her belly, I couldn't believe it. Her belly is huge compared to her body. I love it! I just want to reach out and touch it! Actually I kind of do through the screen. Hey, its the closest I can get.
5. I am craving Taco Bell.
Want to join us?
Here are the rules. They are simple.
~ Link up your Random 5 on Friday post.
~ Add a link back to me somewhere in your post.
~
Please make sure to put the direct link to your blog post not just your blog
. I like to read and comment on all of you but I can not always do it right away and I do not have time to look for it. Thanks!
~ Visit, Visit, Visit! Have fun encouraging each other. :)