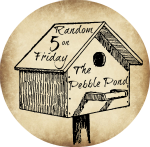 1. I had to make some changes around here. I sat down and made a list of ALL my commitments. Then I started crossing things off. When I was down for my leg it really put a damper on things. I got behind on everything. I am pretty much caught up but it was a rough year anyway. We are going to have to school through the summer to get caught up and I just really had to reevaluate everything I was doing.
One of those things I had to stop was Beauty Captured. It makes me so sad. I was so close to a year and I made some really good friends that linked up with me. Wendy has graciously decided to taking over for me. So if you are interested be sure to jump over to her blog and check it out.
I also stopped doing the 100 Happy Days. I know, I know...how hard is it to take a picture. Well it wasn't that it was hard but once I got a bit behind, I was always scrabbling to get caught up and it just made me grumpy.
I honestly feel better all ready. I feel free to just take pictures when I want and not have to stress over it. I feel free to relax a bit. Does that make sense?
2. Searching for a house is trying.
3. Have you every heard of
Geocaching
? You have to check it out. The kids and I have been having fun with it. We even have a cool name....HalfDozen. Hehe...I love it. You can check out the website but basically all over the country there are these little boxes that are hidden. Inside the boxes are logs to sign and sometimes little trinkets that you can take or leave one yourself. I downloaded the app and you can look at the map of any area. Follow the clues and find the box. Its like a big scavenger hunt! Fun!
4. I have been in such a good mood lately.
5. I bought 3 new bottle of nail polish (they were on clearance) and a new pair of sunglasses today. Aren't they cute? :)
Want to join us?
Here are the rules. They are simple.
~ Link up your Random 5 on Friday post.
~ Add a link back to me somewhere in your post.
~ Please make sure to put the direct link to your blog post not just your blog. I like to read and comment on all of you but I can not always do it right away and I do not have time to look for it. Thanks!
~ Visit, Visit, Visit! Have fun encouraging each other. :)