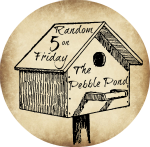 1. Mice. I absolutely hate them. I can do all things country except mice. We have only had (that we know of) a few mice in the 8 years we have lived here. Until now. We catch at least 1 every night for the last 3 nights. There are not actually in the house but in the sunroom. Which technically is the house but still....YUCK!
2. I have worked out 2 days in a row and it feels great! I was scared at first. I wasn't sure if it would hurt my leg or irritate it but so far, so good. Yippee!!
3. Mothers Day was wonderful. Pictures soon! Unless you are friends with me on Facebook. Then you have already seen them. :)
4. I love Little House of the Prairie! Watching it as I type. I can't pick a favorite character or episode. Its all just so good.
5. Being part of the TOS Crew is such an amazing experience. The women are wonderful. Absolutely wonderful. I had so much support while I was down with my leg. Prayers, emails, messages. They made me feel so loved. All the wonderful products I have received has been such a blessing to me. It is just a wonderful experience. Thank you ladies.

Want to join us?
Here are the rules. They are simple.
~ Link up your Random 5 on Friday post.
~ Add a link back to me somewhere in your post.
~
Please make sure to put the direct link to your blog post not just your blog
. I like to read and comment on all of you but I can not always do it right away and I do not have time to look for it. Thanks!
~ Visit, Visit, Visit! Have fun encouraging each other. :)