It may be Monday and not Friday but I have a pretty good excuse!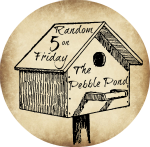 1. Many of you all know this but it has been a very rough week. I have been in and out of the hospital. One StatCare visit, 2 Emergency Rooms, one family doctor and one hospital admittance. Each doctor had a different diagnosis which caused me to only get worse instead of starting to heal. It turns out that I have cellulitus a form of staph infection. I guess I shaved my legs with a dull razor and then got myself into some poison oak (or something similar) and my body didn't like it. Now I have a mess of a staph infection on my leg that is not responding to antibiotics. As of right now, it is just staying the same but at least it is not getting any worse. I only stayed in the hospital for 24 hours. I couldn't stand being away from my family. The doctor said that was fine as long as I come back at any sign of things getting worse.
I have to sit with my leg elevated. Other than walks to the bathroom. Blah. I feel like I am losing my mind.
2. Morgan would not leave my side the whole time I was in the hospital. The other kids didn't like it either but she was a mess. Poor girl. She got to spend the night with me and got spoiled by the nurses. She loved it.
3. Brian has missed work and that has completely set us back on saving for a house. Such a bummer. Along with that we have spent money on eating out and other things because having a momma in such a mess kind of puts a damper on things. Then add in the money spent on prescriptions and the doctor bills. I'm trying really hard not to stress.
4. That is not working very well. I feel really depressed. Between the money or lack there of, being stuck sitting and doing nothing and my leg not healing....I am feeling pretty down. I'm trying to keep my spirits up. I find myself being short and grumpy with the kids and Brian.
5. On a good note, having Brian home has been nice. Him and the kids spent most of the time with me when I was in the hospital. He took me outside and pushing me around in a wheelchair. Good thing it was Saturday so the hospital was not very busy because he was racing me down the hall and popping wheelies. He even picked me the biggest flower out of the hospital flower garden. Haha....I told him that was going to show up on our bill!
Yesterday he was able to get some stuff done around the house that needed done. He cleaned out the chicken pen, handed out chores so the house got clean and the grass is mowed, sharpened the mower blades, played around with the tiller and took care of me.
Want to join us?
Here are the rules. They are simple.
~ Link up your Random 5 on Friday post.
~ Add a link back to me somewhere in your post.
~
Please make sure to put the direct link to your blog post not just your blog
. I like to read and comment on all of you but I can not always do it right away and I do not have time to look for it. Thanks!
~ Visit, Visit, Visit! Have fun encouraging each other. :)