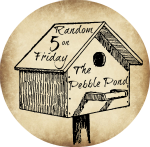 1. I am doing an ab challenge this month. It is kicking my butt err...abs...HARD! I love it and hate it at the same time. I feel so accomplished when I am done though!
2.We just found out we will be able to buy a house within the next 2 months. I have refrained from looking until now. I am a bit obsessed.
3. I am training to run a 5k and I'm so excited about it! It isn't just a 5k, it is a color run! Have you heard of those? Something about being covered in colors just makes it all the more fun, ya know.
4. I'm seriously giddy about blogging about our house journey. From looking around, buying it and then putting my personal touches EVERYWHERE. We have rented all our married life. I tease that we will not have a white wall in the entire house!
(Yes, I just went back and forth between two topics!)
5. Have you heard of the
Ultimate Blog Party
? It is loads of fun. I have participated for the last few years. There are loads of prizes, you can find like minded bloggers and if you are lucky, a few new blog followers. :)
100 Happy Days
(Each day, I use Instagram to report one happy thing for that day. You can join in here!)
Running! Love!
Warm sunshine!
Eggs. Finally!
I love her heart for babies. Even pretend ones!
Morgan and her kitty
I paid Morgan to do the dishes before I made dinner.
Taylor asked her if she could help.
Morgan put her tray on, covered her joystick, got her apron and a towel to help her dry the dishes.
Plus paid her half the money she earned.
Lego buddies
Want to join us?

Here are the rules. They are simple.
~ Link up your Random 5 on Friday post.
~ Add a link back to me somewhere in your post.
~ Please make sure to put the direct link to your blog post not just your blog. I like to read and comment on all of you but I can not always do it right away and I do not have time to look for it. Thanks!
~ Visit, Visit, Visit! Have fun encouraging each other. :)