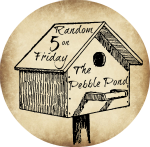 1. We got our pre-approval!!!!!
2. We go look at houses TONIGHT! EEK! I'm so stinkin excited I can barely stand it.
3. My very special friend and cousin sent me my very first kombucha SCOBY. I'm a little nervous about making kombucha but pretty excited at the same time.
4. All of my kids have out grown their clothes. Why do they do it at the SAME time?
5. Good Friday. I love my Jesus. I'm working hard at remembering what this weekend represents. Will you do the same? I hope each one of you have an amazing Easter weekend.
Healthy muffins! They actually taste good too!
A fun day of fishing
I woke up to Carter entertaining Taylor so that I could sleep in. :)
I love that the men in my life migrate to me like this
I can't have a big garden this year so pots it is!
Homemade laundry detergent. Smells heavenly!
Cookies and Mr. Poppers Penguins. Just me and the kids. 10 o'clock!
Want to join us?
Here are the rules. They are simple.
~ Link up your Random 5 on Friday post.
~ Add a link back to me somewhere in your post.
~
Please make sure to put the direct link to your blog post not just your blog
. I like to read and comment on all of you but I can not always do it right away and I do not have time to look for it. Thanks!
~ Visit, Visit, Visit! Have fun encouraging each other. :)