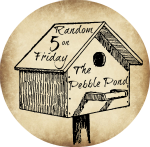 1. We got all our papers to the mortgage company. We are waiting. And waiting. We should hear something today or Monday with our pre-approval. Most people do not have to weigh so heavily on this answer but our credit was very bad. We are FINALLY seeing the fruits of our labor and I'm so excited! Please pray we get a good answer and we are approved for a decent amount.
2. If you read my
post last Saturday
, you know I have to be EXTREMELY diligent about saving money. It is not proving to be an easy task. Today is payday so it is the real kicker. Skimp. Skimp. Skimp.
I decided to start selling candles again for a short time. I am hoping that will bring in a little extra. Every bit counts. If you are interested in candles, let me know! :)
3. Breakfast today? Donuts. Don't judge.
4. We will be running errands in the rain today. I wish it was nice and sunny but at least it is not cold. What is your weather like?
5. I had a dream last night that I was pregnant with twins. I even got to go to Germany to deliver them with my little sister. Weird but I would LOVE to be pregnant. Especially with twins. Even weirder was after the delivery there was 3 babies instead of 2 but I didn't complain. I wouldn't either. Although my husband might! ;)
Considering linking up?
Here are the rules. They are simple.
~ Link up your Random 5 on Friday post.
~ Add a link back to me somewhere in your post.
~
Please make sure to put the direct link to your blog post not just your blog
. I like to read and comment on all of you but I can not always do it right away and I do not have time to look for it. Thanks!
~ Visit, Visit, Visit! Have fun encouraging each other. :)