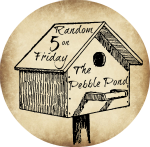 Can you believe that it is the end of March already!? Where did the month go? I know it didn't give way to beautiful spring yet but it is a comin!
1. Eating healthier is hard. I am having the hardest time finding good, wholesome meal ideas. I have practically given up soda all together, cut out most junk....but actually replaces it is another story. Most of the time I'm just starving. Not good.
2. I looked into the Trim Healthy Mama diet. I love the premise of it but I just don't know that it is doable for me. Besides being confusing as all get out, there is so much too it. When you can eat what and how much, yada, yada, yada! This girl doesn't have time for all that.
3. Brian and I started working out together and I LOVE it!
4. When Taylor was little she could not have her nails painted because she would put her fingers in her mouth too much and the polish would wear off. The other day she asked if we could try. I am happy to report that she has polish on for over a week and it still looks lovely!
5. If you have been following me for some time, you know that we are working really hard at raising our credit score. Which makes buying a house very near in the future. This month we raised it up by 57 points!! I am unbelievably excited. That means buying a house could be even sooner!! Yippee!
(Each day, I use Instagram to report one happy thing for that day. You can join in here!)
Want to join us?

Here are the rules. They are simple.
~ Link up your Random 5 on Friday post.
~ Add a link back to me somewhere in your post.
~ Please make sure to put the direct link to your blog post not just your blog. I like to read and comment on all of you but I can not always do it right away and I do not have time to look for it. Thanks!
~ Visit, Visit, Visit! Have fun encouraging each other. :)