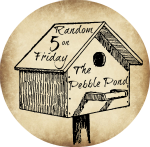 1.Taylor's surprise party was a HUGE success! I plan on posting a huge amount of pictures soon. :)
2. I do Beauty Captured on my blog, as you know. A picture of beauty, everyday. Well I saw
this
on Facebook and joined in too. I am doing it through Instagram. I started on the first day of Spring! A picture of "Happy" everyday for the next 100 days. I love me some Instagram. How about you?
I also decided I am going to *try* and not use my "Happy" pictures for Beauty Captured. So every Friday I will post my *Happy* pictures here on Random 5.
Which reminds me, I started a second Instagram account for my workout pictures. I don't want to annoy anyone with them but I love having encouragement from others and I have others asking me for encouragement so....you can find me under @mirandasfitnessjourney...if you are interested.
3. Spring. Spring! It is finally here although you can NOT tell today. It was supposed to be in the upper 50's today but right now I see this.....
Blah! I just keep reminding myself....IT WILL COME!
4. I am already ready for another tattoo. I know, right!? Don't worry. I am giving it some time.
5. Todays To-Do list is a mile long! It always seems like Fridays are busy, busy, busy.
Up today....
~ Clean. My house is a mess!
~ Laundry. Ugh. I don't even want to talk about it!
~ School. Chugging along.
~ Revise Spring Schedule. Wait! I don't do schedules. ROUTINE!
~ Workout. Love me some Combat!
~ Blog Post. Birthday pictures!
~ Make granola, granola bars, energy bites and yogurt. Must get healthy snack foods made!
~ Make soap. Long overdue
100 Happy Days on Instagram!
Day 1:
Strawberry water! Helped me kick my Dr. Pepper habit and now I crave it! Love!
Day 2:
Taylor's hair is getting so long! I love it!
Life is always better if you can find something to smile about!