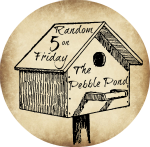 1. Tomorrow is the big day! Taylor's surprise party! I am so excited! She still knows nothing about it. I have a million and one things to do today to get ready. Photo booth props, cook for around 50 people, grocery store, pick up odds and ends, get clothes ready, attempt to make pom poms again....EEK!
2. Brian and I decided I should be able to have an in the ground garden! Yippee! I am so excited to buy our own home but that is not going to happen until July or August. Which at that point we may not even find anything. So the plan is to get it in the ground early. Harvest early. Buy a house!
3. I love fruit. Watermelon, grapes, peaches, strawberries...YUM!
4. The temps were in the 20s yesterday and supposed to be 60 today. Welcome to Ohio.
5. I have severely cut my pop drinking! I usually have a can with dinner and the rest of the day I am loving cucumber/strawberry water! It is was more refreshing than anything else. Love it!!
Want to join us?
Here are the rules. They are simple.
~ Link up your Random 5 on Friday post.
~ Add a link back to me somewhere in your post.
~
Please make sure to put the direct link to your blog post not just your blog
. I like to read and comment on all of you but I can not always do it right away and I do not have time to look for it. Thanks!
~ Visit, Visit, Visit! Have fun encouraging each other. :)