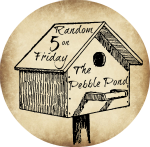 I hope the month of March is going wonderful for you!
Are you ready for this weeks Random 5?
Here we go.
1. Our week started with a doctors appointment and is going to end with one. Taylor on Monday. Me today. No fun. Taylor's reports came back great from the endoscopy! Now to wait for mine. I had to have a suspicious mole removed. Prayers would be appreciated. Kinda makes me nervous.
2. It is in the high 40's! LOVE!
3. I have watched way too many library movies and drank way too much pop this week. Must. Do. Better. (Watching a movie as I type)
4. I am knee deep in party planning. I seriously LOVE every single second. When I think about what Taylor's face is going to look like when we surprise her, I smile.
5. I have a few things to return today and I think I am going to buy me some tennis shoes! I desperately need a pair. Plus it is almost running season!! Some new kicks would make the season all the better. :)
Considering linking up?
Here are the rules. They are simple.
~ Link up your Random 5 on Friday post.
~ Add a link back to me somewhere in your post.
~
Please make sure to put the direct link to your blog post not just your blog
. I like to read and comment on all of you but I can not always do it right away and I do not have time to look for it. Thanks!
~ Visit, Visit, Visit! Have fun encouraging each other. :)