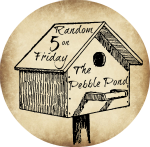 1. My sweet Taylor turns 16 in a little over 2 weeks! I am trying to make this birthday so very special for her. As many of you know, this will not be a typical monumental birthday for her. So I have been racking my brain trying to think of ways to make this birthday extra special...."Taylor Style".
We are going to have a BIG surprise party for her but there is more! Will you help make her day extra special? I would love it if you would. I announced on Facebook the other day my plan to get as many people as I can to send Taylor a birthday card! The response was amazing! If you would like to send her a card too just leave your email in the comments and I will email you our address. :)
2. I am trying to eat healthy. I don't like it. The end.
3. I got my new Project Life album in the mail today! LOVE! I went with the
"Heritage"
edition for this year. I love the look and feel of it. It fits me right now. I am a few months behind but playing catch up is fun! Do you use Project Life? I am seriously in love.
4. I was gushed over about my "Ohio Accent" from a Canadian lady on the phone. Totally. Made. My. Day.
5. I have an abundance of homeschool curriculum that I do NOT use. I keep telling myself to sell it. Why do I hold on to that stuff like it is gold? I really have no idea. Am I the only one that does this?
Considering linking up?
Here are the rules. They are simple.
~ Link up your Random 5 on Friday post.
~ Add a link back to me somewhere in your post.
~
Please make sure to put the direct link to your blog post not just your blog
. I like to read and comment on all of you but I can not always do it right away and I do not have time to look for it. Thanks!
~ Visit, Visit, Visit! Have fun encouraging each other. :)