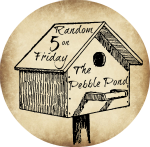 1. I got my hair trimmed and added long layers this week. I am REALLY itching to add highlights but I don't want to spend the money. Such predicaments, ya know?
2. School was non existent this week. Unless you count Wii tournaments, cuddling and cleaning. I am sure we can fit that in a subject somewhere, right?
3. I am ready to plant my garden. Depending on when we buy a house I might not be able to plant one at all! Can you imagine!? I seriously don't know what I will do. Going all summer without seeing my garden grow will be torture. I think I will resort to pots if it comes down to it.
4. We are having a Valentines Day party on Sunday. The whole family is excited. Tomorrow we are making robot valentine "holders". They are not boxes so...."holders" it is. Today we are going shopping for our menu. Its going to be fun!
5. At 4:30 this afternoon this Bible-Believing, Baptist Church attending, Homeschooling momma is getting a TATTOO. Yep, you heard me right.
It is something I have wanted to do since I was 16. A few years later, I got married, had babies and built a life. Which is definitely the better route! When I hit about 30, I was really wanting to get it done but I was afraid of what people would think. I am slowly overcoming that. Other than not really wanting to spend the money on it, I am over the top excited! Tremendously nervous though. Its gonna hurt!
I hope you will still love me. :)
Do you have some randomness that you would like to share? I would love for you to join in!
Here are the rules. They are simple.
~ Link to your Random 5 on Friday blog post.
~ I would be honored if you would link back to me in some way.
~ Visit, Visit, Visit! Have fun encouraging each other!