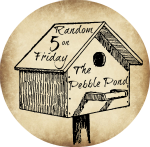 1. On Saturday, I went with my mom, stepmom and little sister to go shopping for a WEDDING DRESS!! We found it at the first store we went to. It is perfect. Kassy is going to be such a beautiful bride! I only cried once the whole shopping trip.
2. I have been thinking about selling candles again. I have had quite a few requests for them lately. I love making them. It just takes a lot of time. We shall see.
3. Its been kind of a slow week. All week I have felt like I was coming down with something. I just feel tired and blah. Not fun.
4. Brian took 2 days of vacation this week. Although I felt "blah" it was still so nice to have him here. We just kind of hung out, played video games and napped. Ok, I napped. ;)
5. We got our tax refund back today! Yee-Haw! Buying a house is getting closer and closer. I'm so excited!
Do you have some randomness that you would like to share? I would love for you to join in!
Here are the rules. They are simple.
~ Link to your Random 5 on Friday blog post.
~ I would be honored if you would link back to me in some way.
~ Visit, Visit, Visit! Have fun encouraging each other!